Posted on
By Caroline Hirsh
Posted in crochet, diy, diy costumes, diy pet costumes, dog, dog costume, fall, fallvibes, halloween, knit, knitted halloween costumes
Looking for the perfect Halloween costume for your dog? Learn to knit and crochet 5 different costumes for your pup using 220 Superwash Merino by Cascade Yarns!
Halloween is tomorrow and we couldn't be more excited. What's the only thing better than making your own Halloween costume? Easy. It's making a show-stopping costume for your pup! Enjoy these five adorable Halloween dog costume pattern ideas using our 220 Superwash Merino by Cascade Yarns. These looks are guaranteed to leave faces smiling and tails wagging!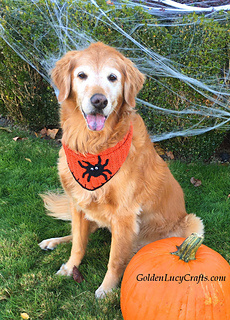 Looking for the perfect no fuss costume for your furry friend? Check out this free crochet dog bandana pattern designed by Patons North America & published in GoldenLucyCrafts! The pattern measures approximately 33" long and 9" wide (at widest point). To create this bandana, we recommend using 220 Superwash Merino yarn in in the shade 007 Bird of Paradise for the orange base, and 028 Black and 025 White for the bandana's black trim, and spider details.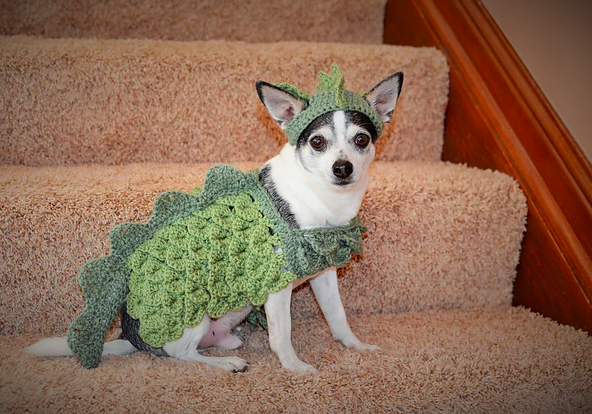 Do you have a little guy who thinks he's a big guy? A small pup with a fierce, fiery, dragon-like personality? Then check out the Small Dog Dragon Costume, available for purchase by Ravelry! This costume was designed to fit a small 10 lb Chihuahua. To make it, we recommend using 220 Superwash Merino in two different shades of green: 057 Sweet Pea is a beautiful lighter shade for the base of the costume, and 057 Iguana is the perfect darker shade for the scale details!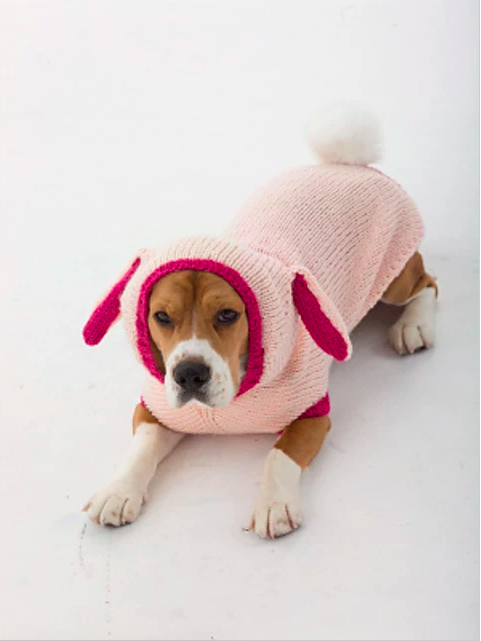 Looking for something totally adorable? Then check out the Bunny Dog Costume by Amanda Nervig, available on Ravelry, designed to fit a 18-29 lbs dog. For a perfect pink little bunny, we recommend pairing the lighter 072 Seashell pink with the darker 098 Camelia. For a beautiful blue bunny, try pairing 055 Arctic Ice with 048 Deep Ultramarine. This pattern uses US 8 - 5.0 mm and US 9 - 5.5 mm which are available here.
Na-na-na-na-na... bat dog! You will love this hero inspired Batman Dog costume designed by Manda Proell, perfect for your crime fighting, bad-guy-slaying puppy! To make your bat dog sweater, we recommend using  the 220 Superwash Merino yarn in shades 028 Black, 026 Silver Heather, and 009 Lemon.This pattern works well for small dogs such as Chihuahuas, Min Pins, and Yorkshire terriers. Buy it on Ravelery here!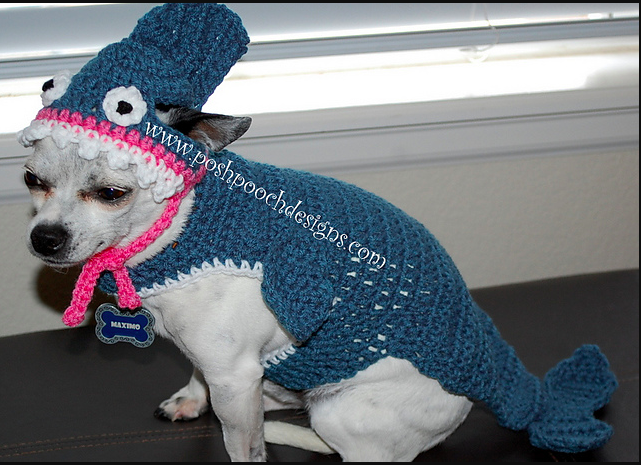 Doggy Shark doo doo-doo-doo-doo, Doggy Shark doo-doo-doo-doo! Have a small pup who loves the water? This Dog Shark Costume Sweater designed by Sarah Sach is perfect! For this crochet pattern (available on Ravelry), we recommend using 220 Superwash Merino in the shade 052 Blue Indigo, and using the 025 White, 028 Black, and 072 Seashell Pink fort the details. Check out the full pattern info here.
What projects will you be creating for Halloween, and what would you like to see next on the blog?  Let us know in the comments below!